Great scene: for almost 25 years, the Japanese diver has been visiting his sweet girlfriend-fish
Maybe he smiles when his friend-heir comes to visit.
Since it is often believed that fish do not experience love, like other pets, such as cats and dogs, friendship between people and fish seems implausible. In addition, the habitats of humans and marine animals are completely different, which makes this friendship unlikely.
But one story dispels all doubts: an incredibly strange connection between the dive and fish, which these two friends have been sharing for more than 25 years. Everyone is confused and amazed at this.
Hiroyuki Arakawa, the Japanese diver, was instructed to guard the sacred Shinto sanctuary under the name "Torii". However, this "thorium" differs from others in that it is located below the Tateyama bay in Japan, which requires frequent diving Hiroyuki to inspect this place.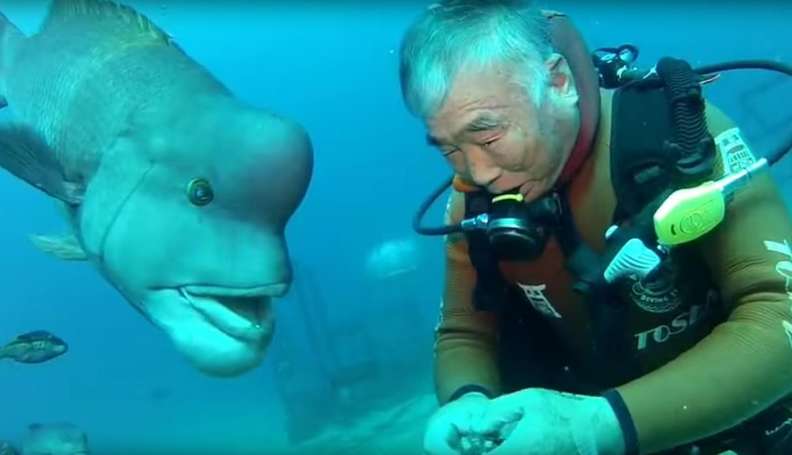 He recognized most of the marine creatures that lived there, and his attention was attracted by wrasse fish; after several meetings, it seemed to remember him, and no matter how incredibly the connection between people and fish sounds, it is obvious that science even supports it. There were research on this occasion. It turned out that fish are able to recognize human faces.
Hiroyuki gave the fish the name Yoriko, and since then Yoriko approached him and gently stroked his head whenever he came. Even if it's a little hard to believe in it, this friendship is really beautiful and sincere.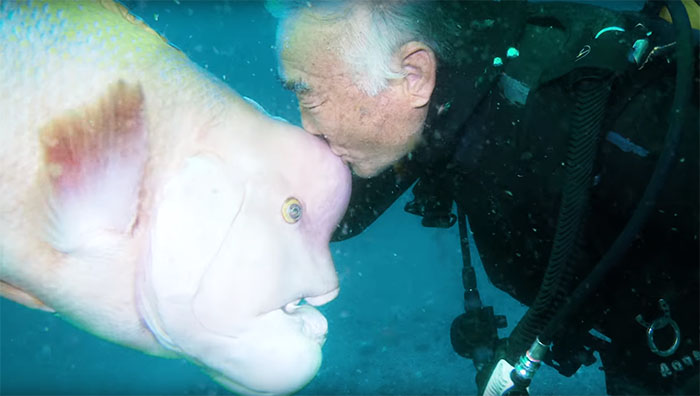 Dr. Cait Newport and other researchers from Oxford University decided to understand this issue. They taught the fish to choose one of two photographs of the human face, directing a stream of water to this image. Suddenly, the fish invariably made the right decision.
However, this did not convince scientists, and they a little complicated the task. Photos are taken, converted into black and white, and the shape of the head changes. And, surprisingly, the fish correctly identified familiar faces with an accuracy of 86%.
Each living creature is unique in nature. The moral of this story is that both water lives and ground animals have a culture that includes feelings.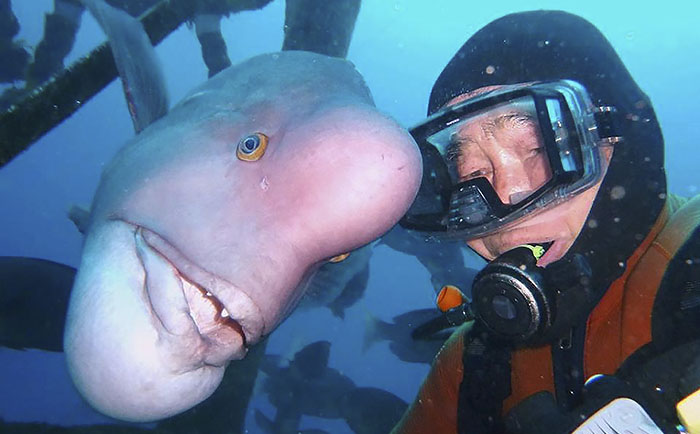 Each living creature is unique in nature. This story taught us that both water lives and terrestrial animals have a culture that includes emotions!
Each creature is special in nature. They have a culture that includes emotions. Without a doubt.
What a handsome man, let us all strive to be so kind and filled!
See the amazing loving and caring story warming the heart in the video below: